Demo
In this demo, we're going to be creating a map that overlays Pennsylvania nursing homes with abandoned mine data.
This is a blank map.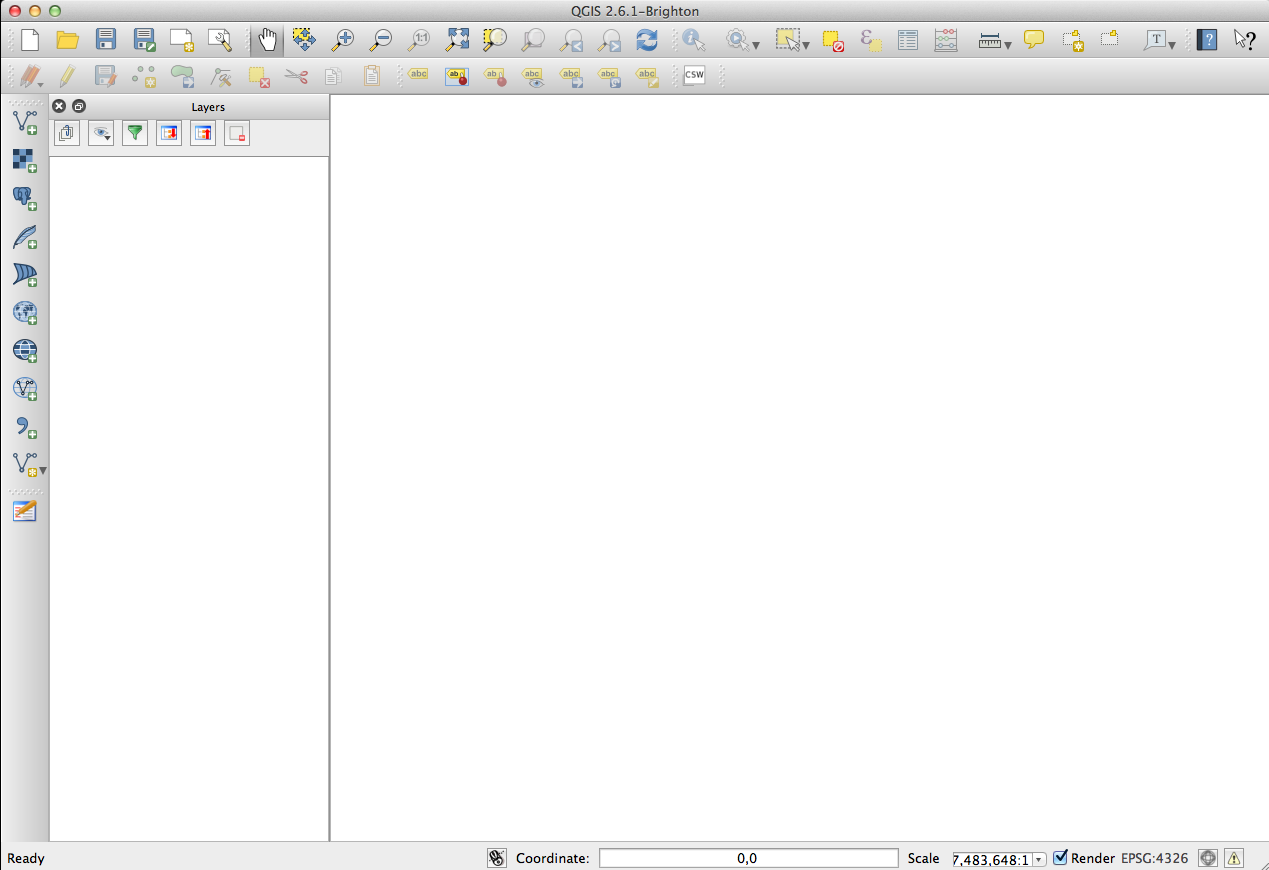 The working directory
Choose your working directory, and stick with it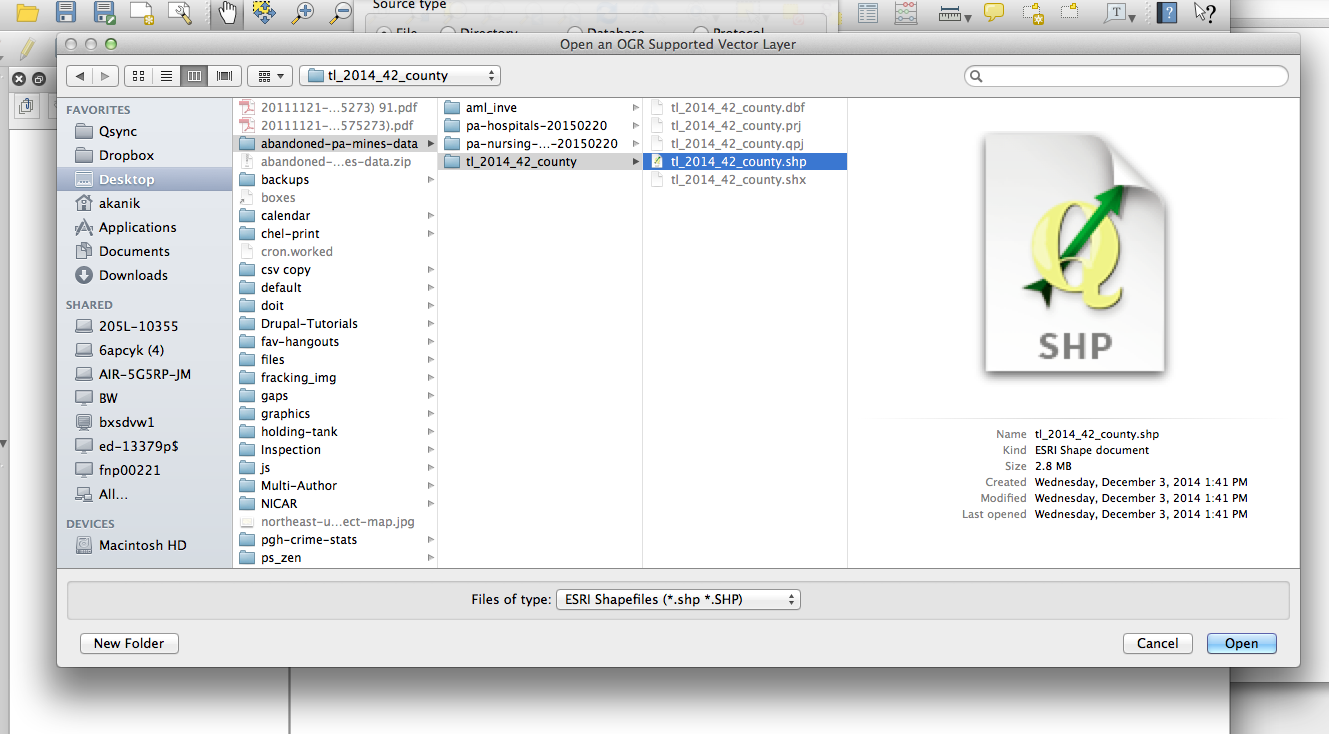 A working directory is a place on your computer where you house all of your map shapefiles. Once a shapefile is added to the working directory, it should not be moved around because that can break the file path and therefore your map.
In the example above, abandoned-pa-mines-data is the working directory.
This is what you'll see if you move layers and map files around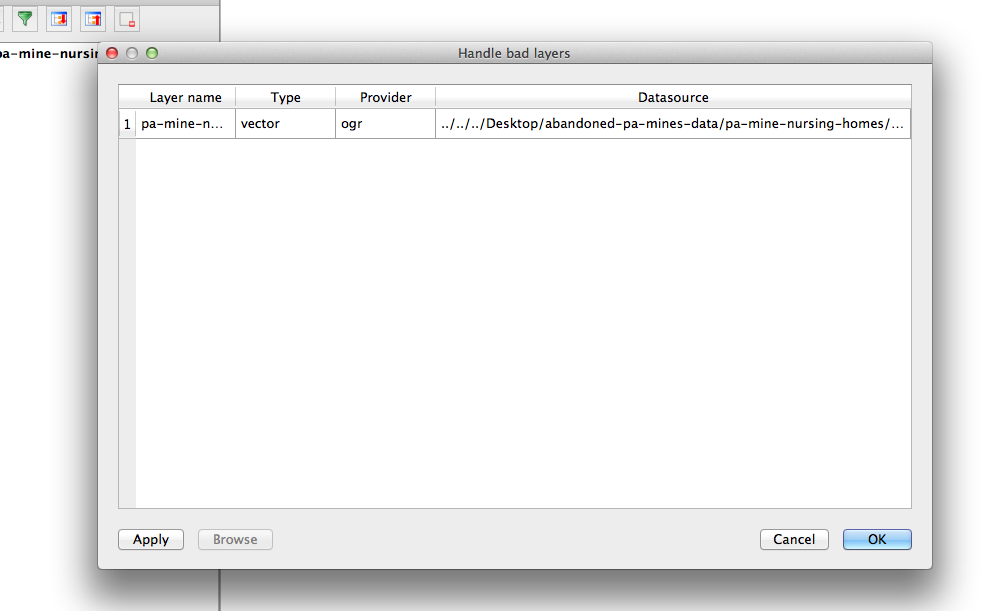 Adding data
We're going to be focusing on VECTOR LAYERS and DELIMITED TEXT LAYERS. These are the layers you will use most often.
Adding vectors
Click the vector layer button
Navigate to your working directory
Add tl_2014_42_county --> tl_2014_42_county.shp
Let's pause here and play around a little with styling!
Styling
Right-click or double-click the layer
Select the Style tab
Style accordingly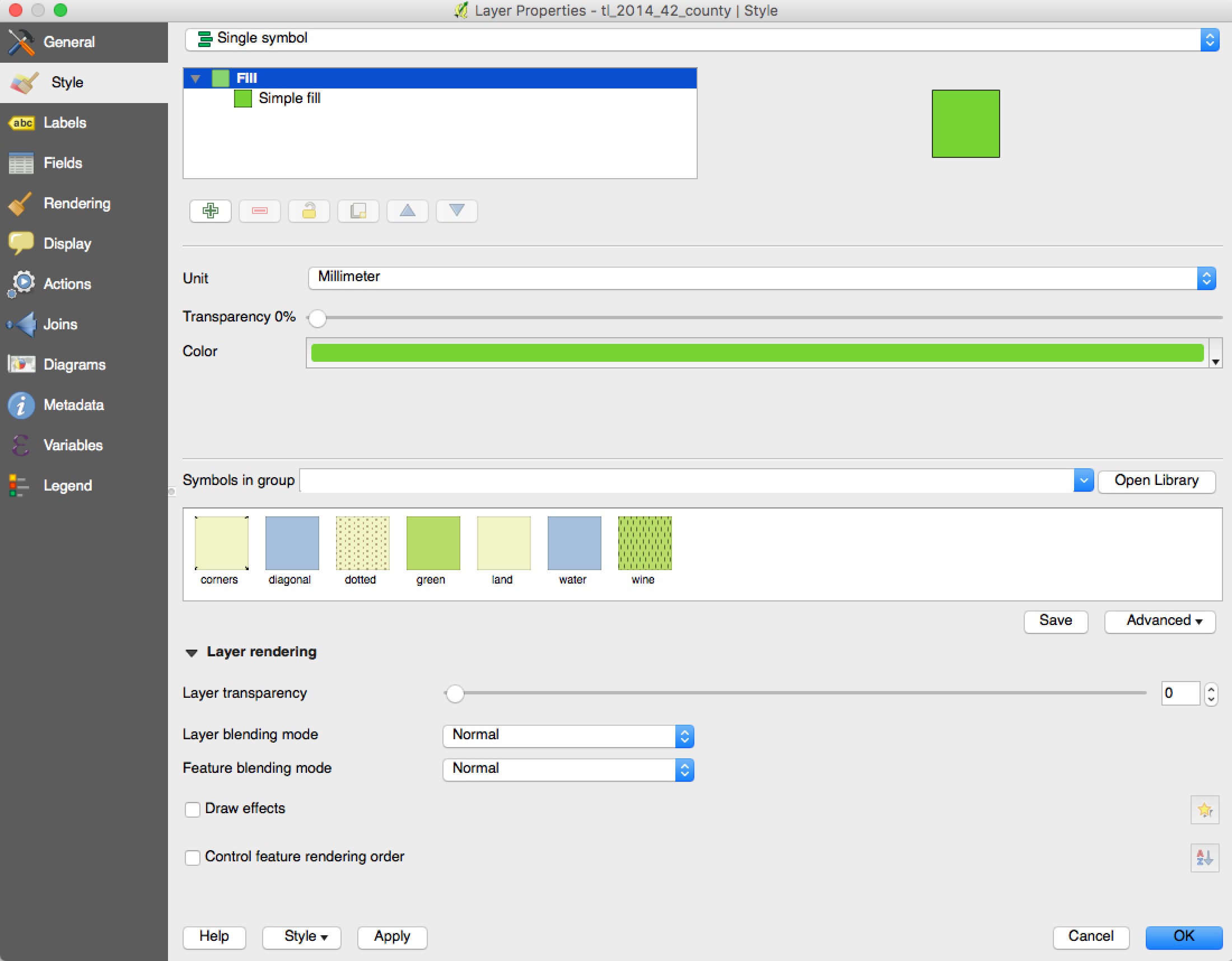 Adding more layers
Add aml_inve --> aml_inve.shp
Add pa-nursing-homes-20150220 --> pa-nursing-homes-20150220-shp --> pa-nursing-homes-20150220.shp
Adding delimited text layers
There are two types of delimited text layers you can add: geographic and non-geographic.
Geographic delimited text layers
So we've already add the pa-nursing-homes-20150220 as a shapefile, but there's another pa-nursing-homes-20150220 data file in our working directory.
Click the delimited text layer button
Navigate to your working directory
Add pa-nursing-homes-20150220 --> pa-nursing-homes-20150220-geo.csv
On the data import screen, we have many options. Most of them are self explanatory. But look under Geometry definition. This is where we will be telling QGIS that we have a delimited text layer that has geographic data.
Make sure Point coordinates is checked.
Then set your latitude and longitude fields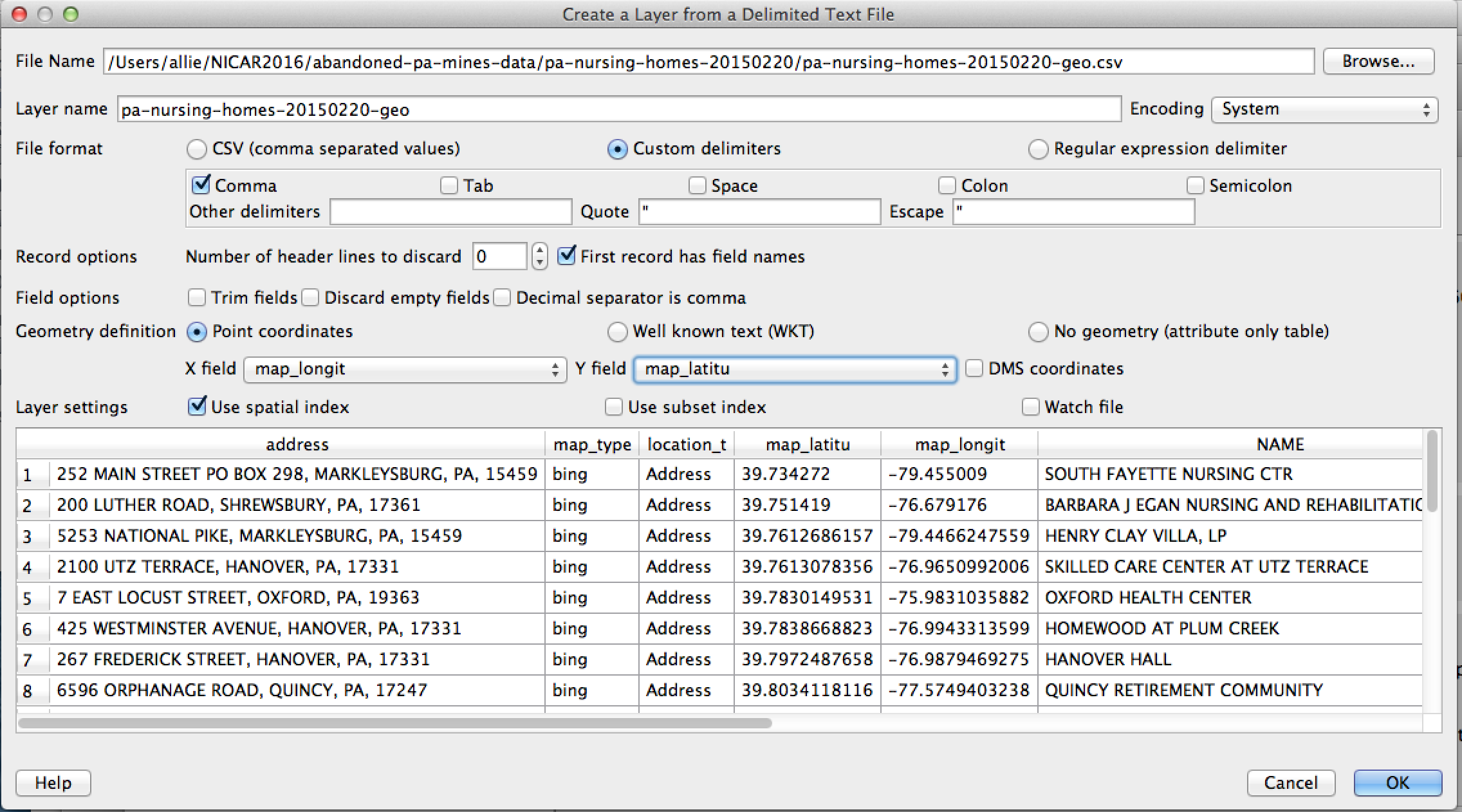 Write this down:
Latitude = Y
Longitude = X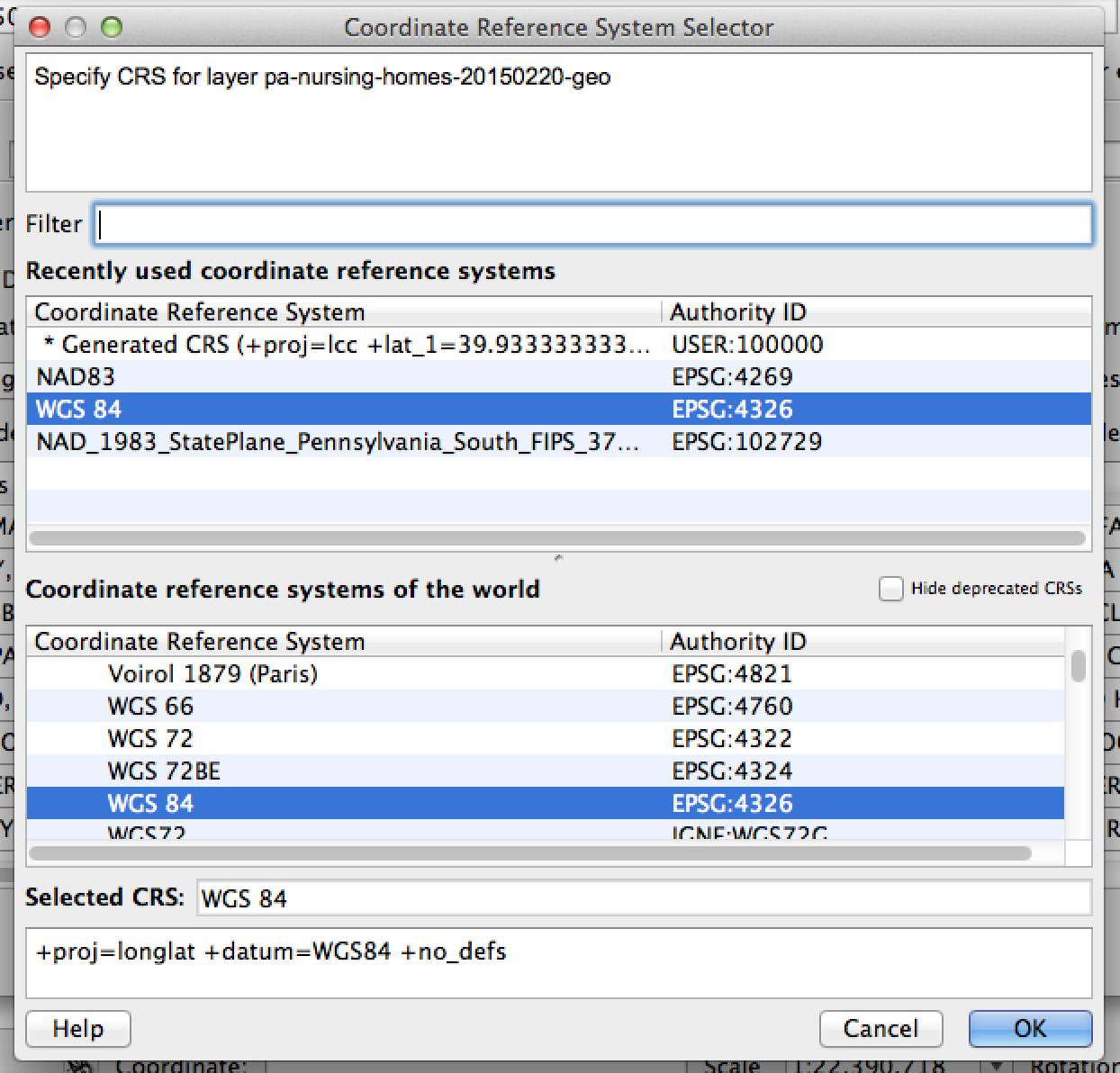 Non-geographic delimited text layers
If your delimited text file doesn't have those latitude and longitude columns, you can still import the data, but nothing will be mapped
This is often useful and necessary when you're trying to join non-geographic data to geographic data. Michael Corey goes over that in his presentation.
Click the delimited text layer button
Navigate to your working directory
Add the pa-nursing-homes-20150220 folder --> pa-nursing-homes-20150220-source.csv
Because we have no geometry in this file, QGIS won't let us add it to the map until we tell it that there's No geometry (attribute table only)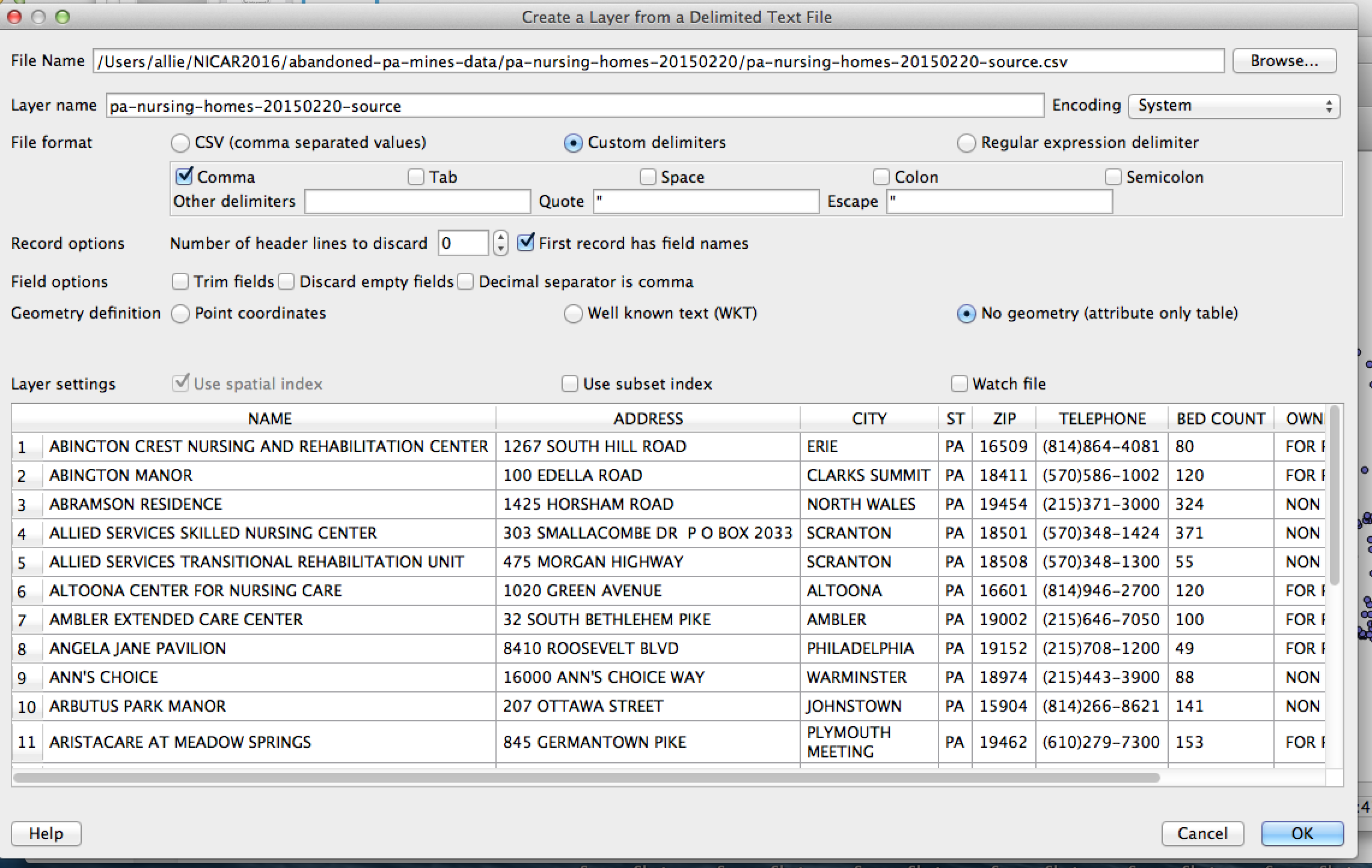 The difference between On-the-fly (project-level) projection and layer projection
On-the-fly projecting
On-the-fly projecting is a way of setting the project-level projection so that subsequent shapefiles added to the project assume that specified projection.
You'll want to set this on-the-fly projecting before adding any data to your map.
NOTE: On-the-fly projecting does NOT actually change your shapefile's projection. So next time you use this shapefile in a new map, it will revert back to whatever projection it had before you added it to your on-the-fly map. If you want to actually change a shapefile's projection see this section.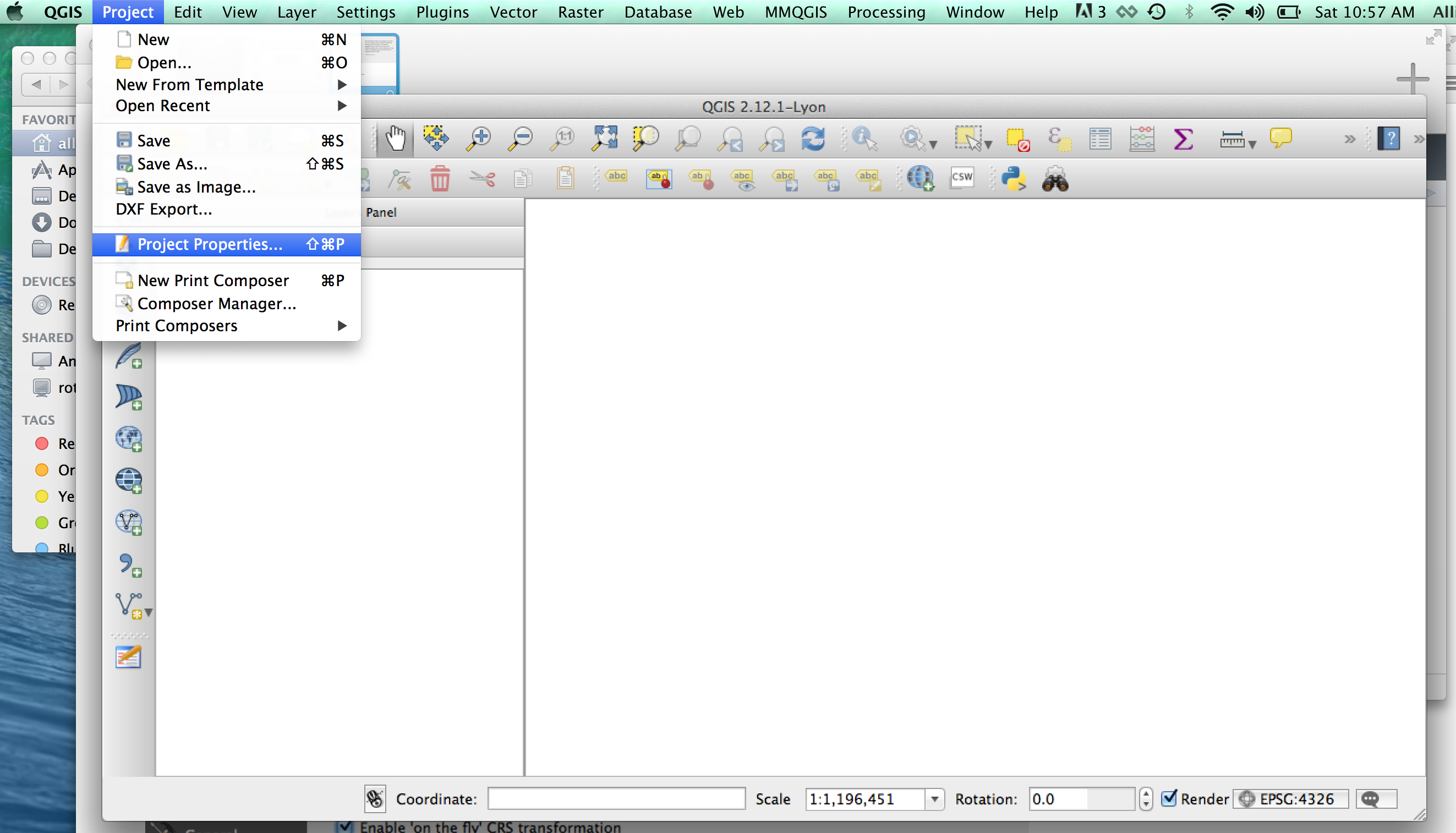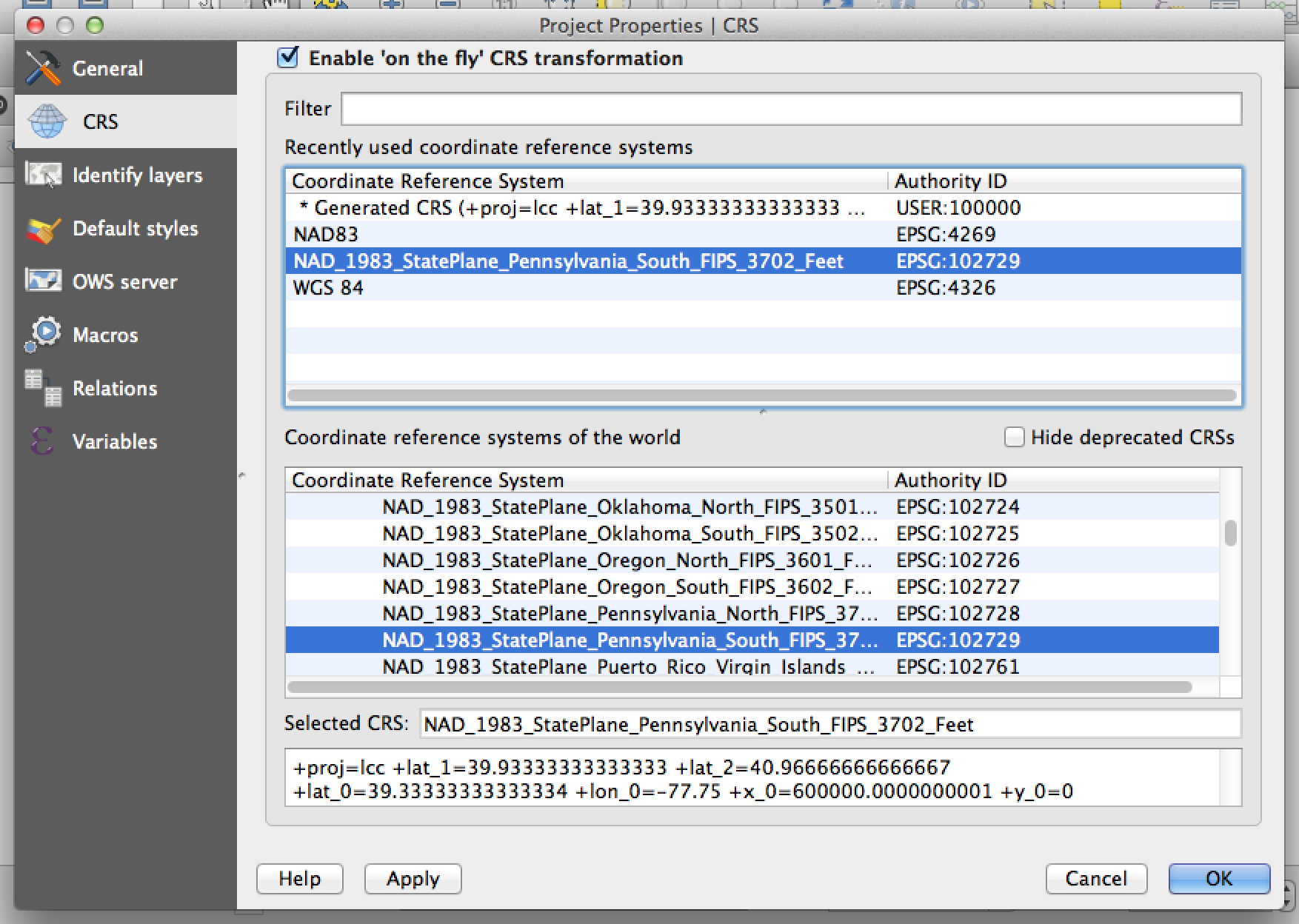 Changing a layer's projection
If you'd like to change a layer's projection instead of just changing how the layer looks in the QGIS system, you'll need to follow these steps.
Right-click the layer you'd like to change
Select "Save as"
Click the "Change" button near the CRS section
Choose your desired coordinate system and click "OK"
NOTE: this process is going to create a NEW shapefile from your existing shapefile, so make sure to name it something you'll remember
Name your new shapefile and add it to your working directory with the "Browse" button
You might be thinking... well that didn't seem to change anything. But close down QGIS, open a new map, and add that newly projected shapefile. You'll see that it now looks much different. Much more like Pennsylvania is expected to look.
Selecting by location
Now we want to take a look at only those nursing homes that sit on top of abandoned mines.
Navigate to the Vector menu > Research tools > Select by location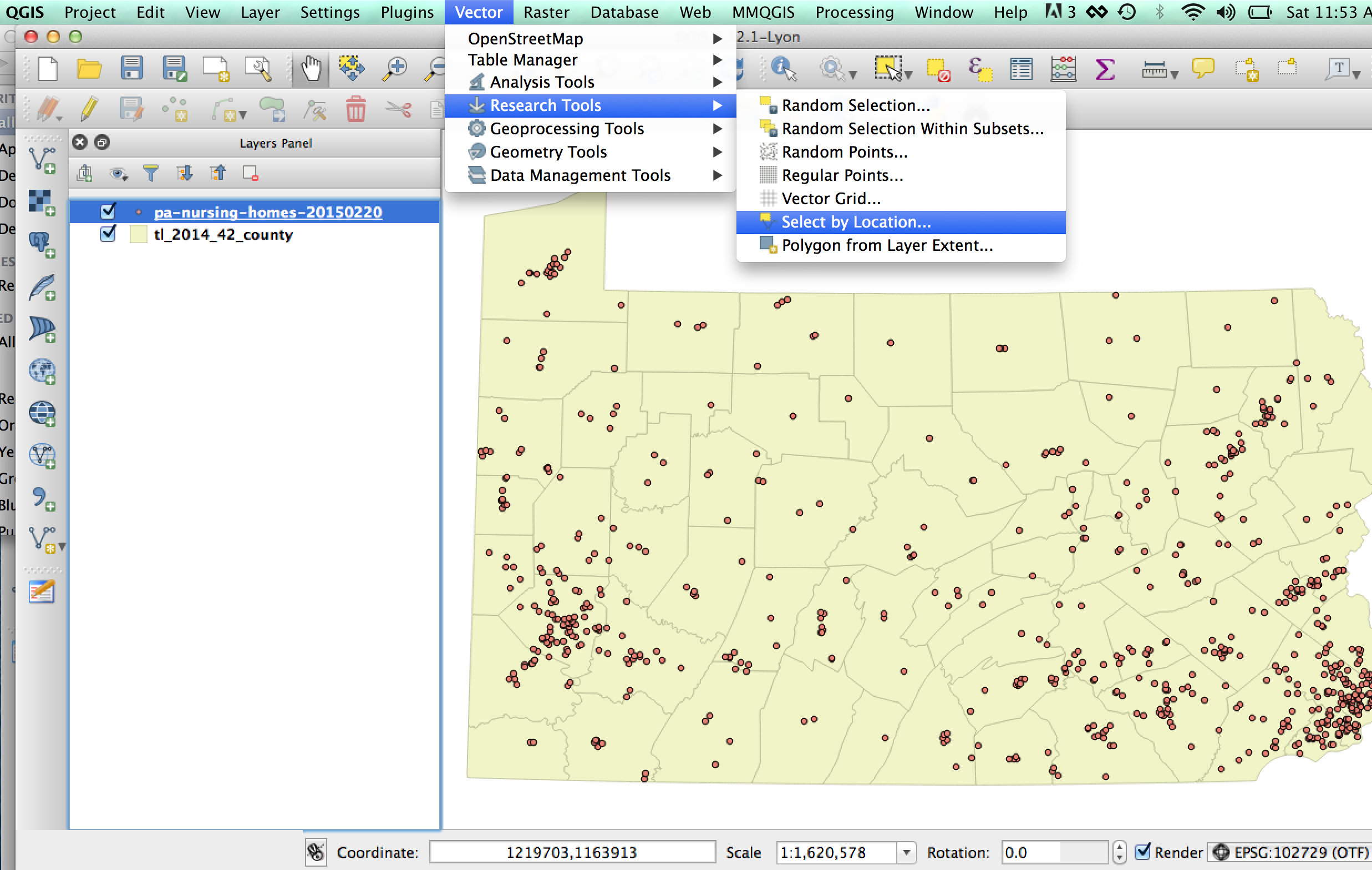 Select features in = the shapefile you want to refine
That intersect features in = the shapefile that will determine which features are selected, the intersect layer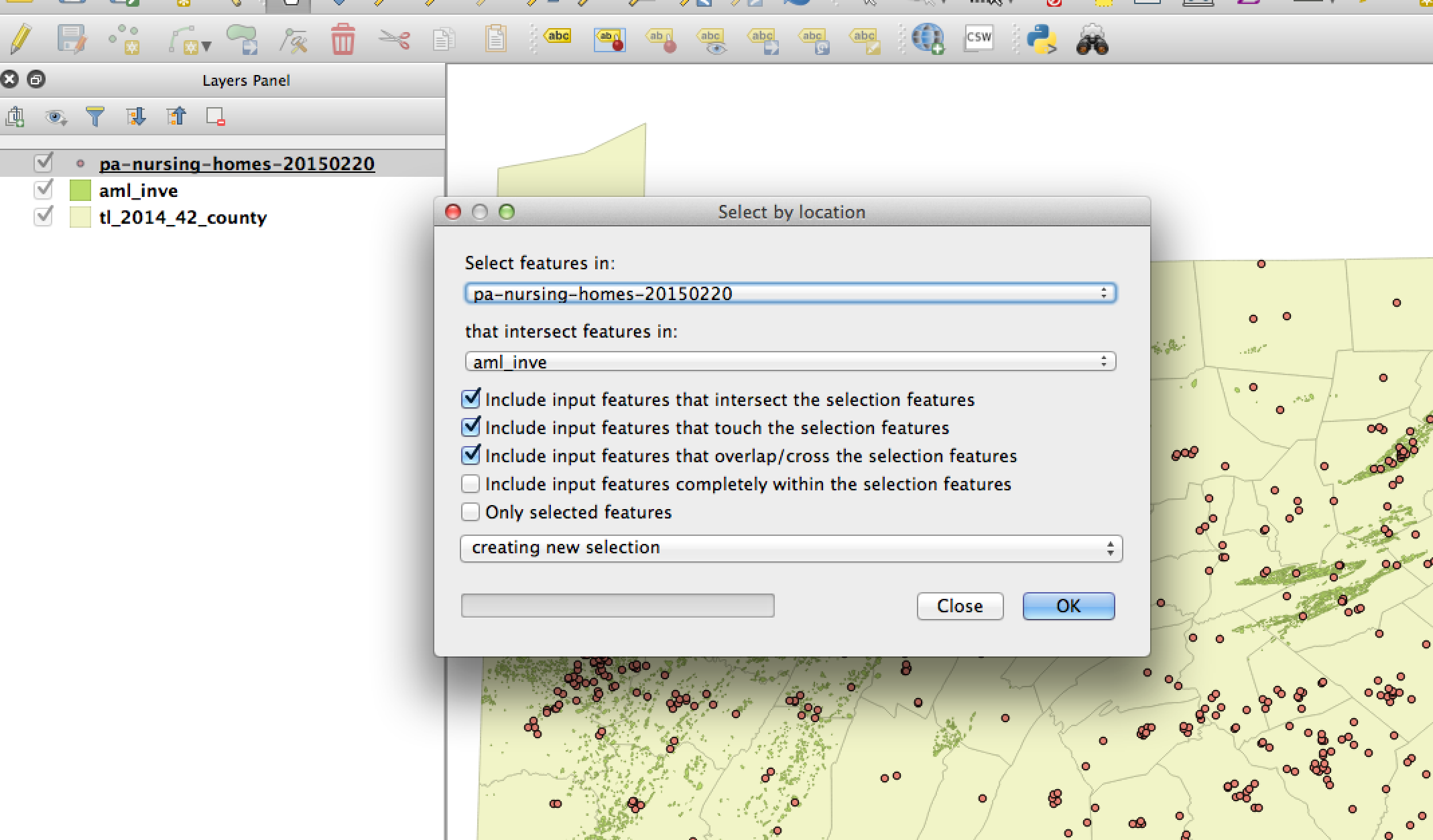 Right-click layer and select "Save as"
Follow normal saving procedures, but make sure to check the "Save only selected features" box
You probably want to add this file to the map after it's created, so check "Add saved file to map" also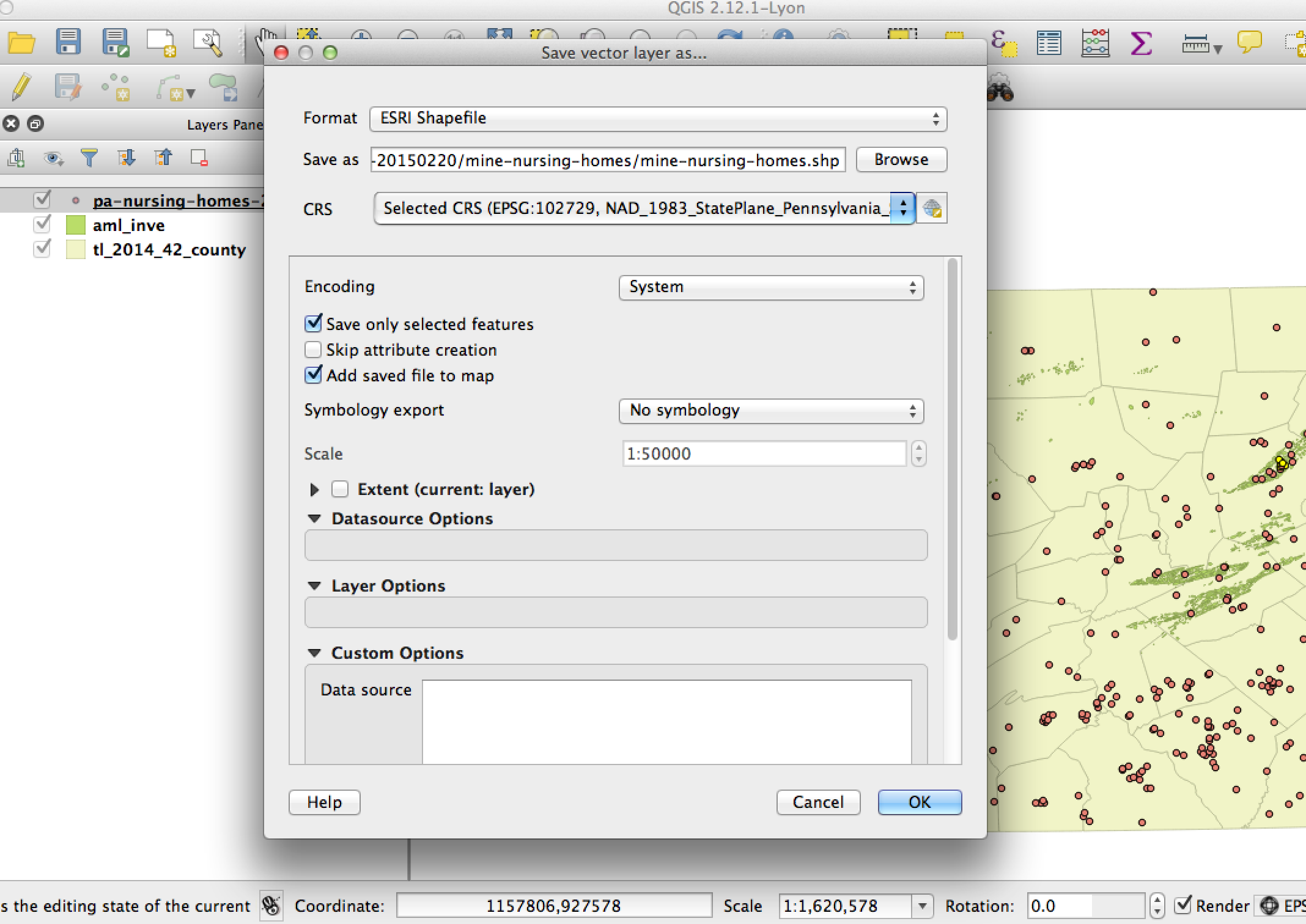 Analyzing the attribute table
Right-click the layer and choose "Open Attribute Table"
Navigate to where the layer is stored in your working directory and open the .dbf file with an editor like excel or libreoffice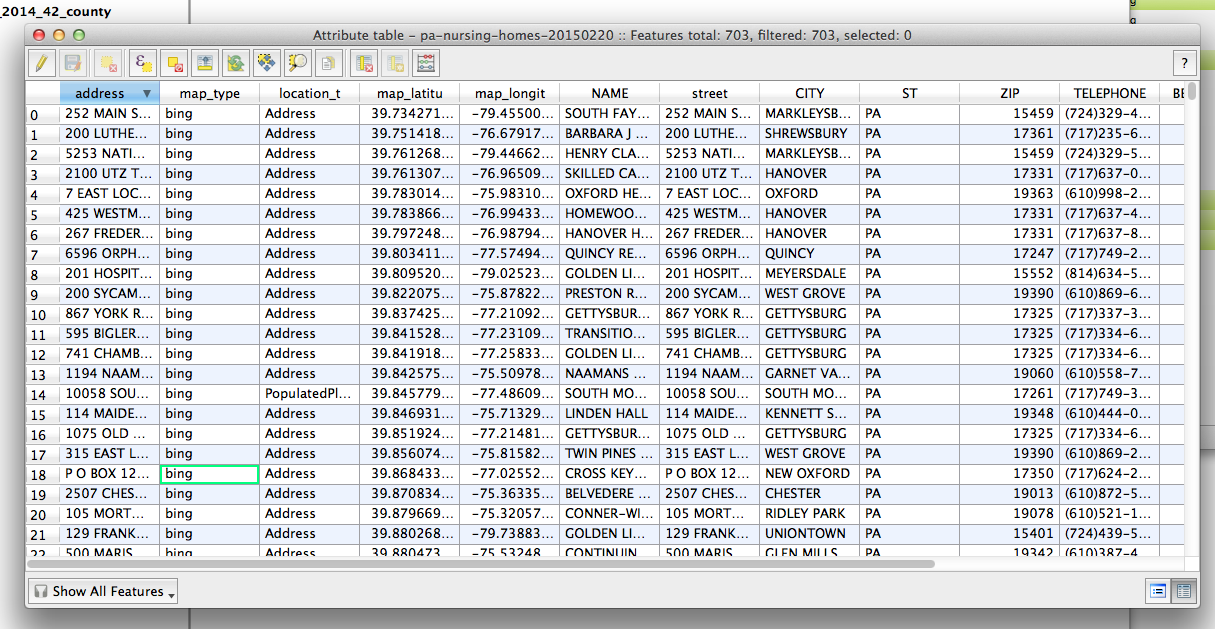 Exporting
So you've got a nice map here. What can you do with it?
There are ways to get from QGIS to an interactive map, but we're going to focus on something quicker: how to export a static image of your map.
There's two ways: one easy, and one more complex but powerful:
The easy way: click Project > Save As Image.
The powerful way: click Project > New Print Composer

Name your map
Click the add new map button. Draw a rectangle to fill the canvas.
Click the add label button. Draw a rectangle where you want a title.
In the sidebar, type what you want the label(s) to say, and style.
Click Composer > Export as Image. Pick a name and size.
Admire your handiwork.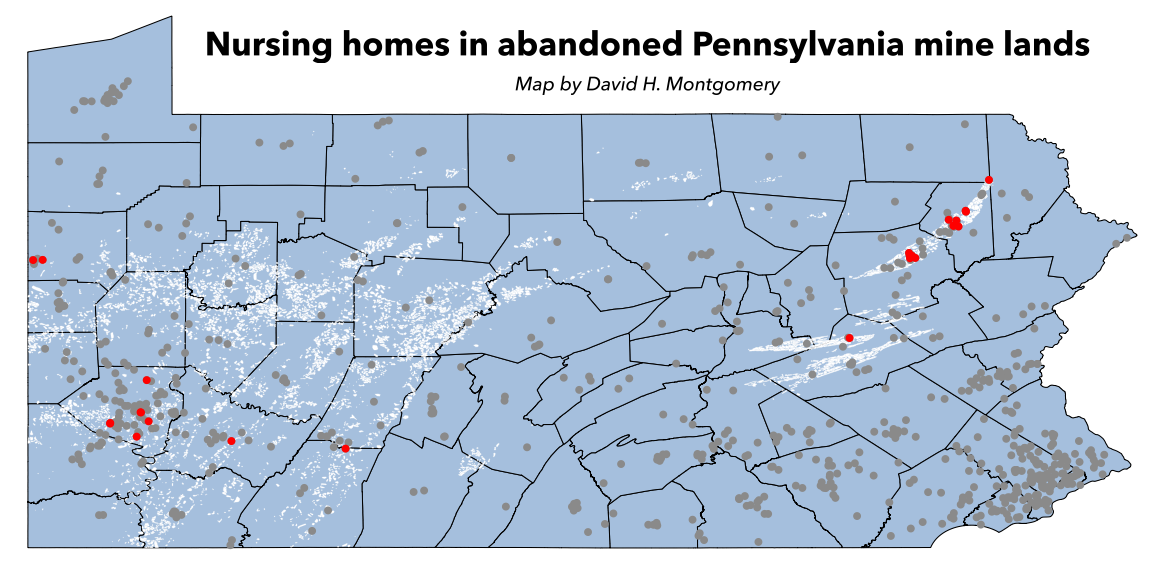 You mean you want more mapping?
Go to qgis.org to download the mapping program yourself.
This is only the very beginning of what's possible with QGIS. Here's a link to Michael Corey's presentation where he covers joining datasets within QGIS, simplifying shapefiles and grouping points by location.