Fake road-tripping: Atlantic Canada
Travel is fun. It's also expensive, and so I hardly ever do it. My vacation time (and, less pleasantly, furlough time) usually ends up being spent at home, doing what I normally do on regular days off.
But that doesn't mean one can't dream — especially given that I've now got a massive map hanging on my wall to attract my wandering eye. Since this blog is basically an opportunity to write out what would otherwise be little more than a conversation with myself, I'll periodically take the time here to share a few of the trip ideas percolating around my subconscious (as well as detail any trips I do actually take).
First up: Atlantic Canada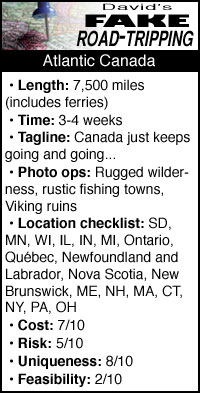 I'll admit right off the bat: this one got out of hand. Way out of hand. But in an educational way!
It started with a little idea to visit Newfoundland, an area I've wanted to visit for some time. Growing up in the Midwest, I've been entirely devoid of real maritime experience, so I'd leap at a chance to see the fishing towns of that island. As a fan of gusty folk music, I already like several musical groups from that area. The landscape is supposed to be fantastic and many of the towns still look much as they did a century ago. Plus there's the Viking archeological site at L'Anse aux Meadows, and great chances to see wildlife and even passing icebergs.
Newfoundland does, of course, happen to be the easternmost extremity of North America, so even from the start we're looking at quite a hike.
Playing around in Google Maps, my education began.
Did you know that Québec is really, really weird?
As someone who studied French, Parisian-style, for almost a decade, the Québecois accent sounds gratingly atrocious. (And believe me, as my French host family would tell you, I know something about gratingly atrocious French accents.) But I'm not even talking about that. I'm talking about how most of Québec makes my current home of South Dakota look like the New York City metro area.
There are eight million people in Québec, basically ten times the size of South Dakota. It's got around 500,000 square miles of land — about seven times the size of South Dakota. That means it's got around 15 people per square mile, compared to about 10 per square mile in the Mount Rushmore state.
But here's the thing. Just like 10-per-square-mile South Dakota has the cities of Sioux Falls (2,300 per square mile) and Rapid City (600 per square mile), and places like Harding County with 0.3 people per square mile, Québec is not populated evenly. Here is a map I prepared showing the 20 largest cities in Québec — which, coincidentally, is also the list of all the cities in the province with at least 30,000 people: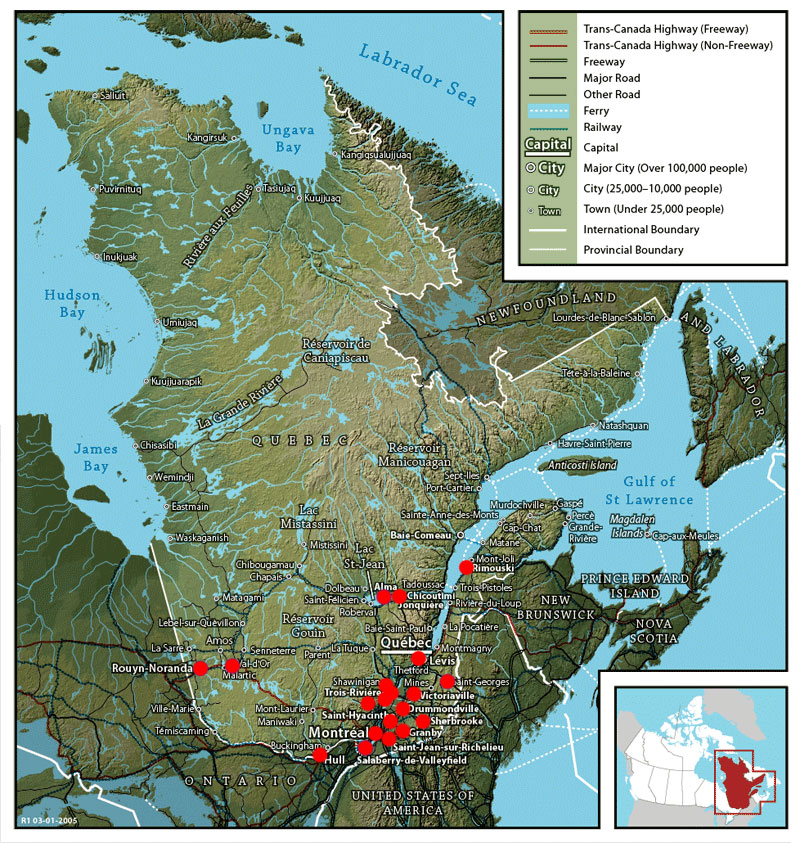 A map of Québec with the 20 largest cities highlighted in red. (Adapted from a public domain map available here.)
The text is a little small, but that's inconsequential. You can see where the red is, and where the red isn't.
Most of Québec, it turns out, is wilderness. And it's wilderness in a very different way from how we refer to wilderness in South Dakota, where even official wilderness areas have permanent habitation, paved roads and services. The entire northern half of Québec is basically uninhabited, with just a few small towns dotting the landscape.
I'll come back to this point in a moment.
When I put in a Google Maps directions search from Rapid City to St. John's, Newfoundland, it directed me to travel through New Brunswick and Nova Scotia before taking the ferry to the island.
There was no other route available.
That seemed odd to me. The Cabot Strait between Nova Scotia and Newfoundland is about 70 miles across. The Strait of Belle Isle, between the eastern tip of Québec and Newfoundland, narrows to about 10 miles across. And setting off from Québec City it's not drastically farther overland to get to Blanc-Sablon (the Québecois terminus of the Belle Isle ferry) than it is to North Sydney (the Nova Scotian terminus of the Cabot ferry).
As it turns out, Google has a very good reason for not sending me to Blanc-Sablon.
If one drives out of Quebec along the north shore of the Gulf of St. Lawrence, one follows Québec Route 138 up through some scenic coastline — 650 miles of coastline. Eventually, one comes to the village of Pointe-Parent, at the mouth of the Natashquan River.
At that point, Route 138 stops. It's still another 225 miles to Blanc-Sablon as the crow flies:

(Screenshot © 2011 Google. Images © 2011 TerraMetrics, Cnes/Spot Image)
If you want to drive from Pointe-Parent to Blanc-Sablon, you will end up traveling 1,500 miles to do so.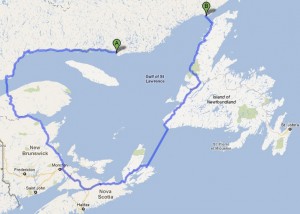 Left: How to get from Point A to Point B in rural Québec. (© 2011 Google. Map data © 2011 Europa Technologies.)
In fact, probably the fastest way to drive to the Belle Isle ferry from Pointe-Parent is to drive back to Québec City, through New Brunswick and Novia Scotia, take the Cabot ferry to Newfoundland, and drive across the island!
According to Wikipedia, the Québecois government is looking at building a highway to bridge this gap. Plans have been approved to extend the highway from Blanc-Sablon to a town called Kegaska just 25 miles east of Pointe-Parent. Of course, that 25 miles includes the mouth of the Natashquan River (a broad estuary), a gap Wikipedia notes "will require further study."
How long will this take? The French-language press release I found doesn't seem to specify, but given that work started just last year on a stretch of land about 200 miles long, I wouldn't expect to be cruising along the coast there any time soon. (That's a distance about equal to between Rapid City and Pierre, and they're building along a broken-up coastline and not across wide-open prairie.)
So that's how you can't get to Newfoundland. If I were driving, here's how I'd go:
Day 1: Rapid City to Chicago (911 miles, 14 hours)
Day 2: Chicago to Toronto (520 miles, 9 hours)
Day 3: Spend a few hours in Toronto. Drive from Toronto to Montreal (336 miles, 6 hours)
Day 4: Spend the day in Montreal
Day 5: Montreal to Baie-Comeau (414 miles, 9 hours)
Day 6: Baie-Comeau to Labrador City (361 miles, 9 hours)
Right: Lake Manicouagan, viewed from orbit. (Public domain image, accessible here)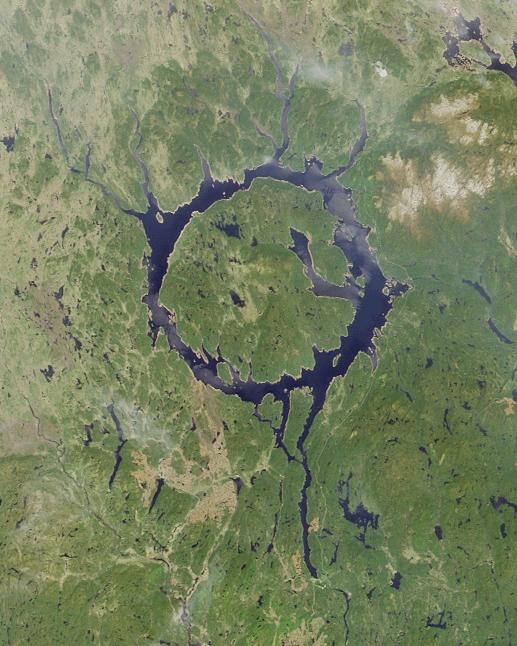 Baie-Comeau is the southern terminus of Québec Route 389. This road will run north for 360 miles, some of which is even paved. There are two gas stations along the route, and you better believe I will be filling my tank at every opportunity. There are some grand sights along the way, including a massive hydroelectric dam and that dam's reservoir, Lake Manicouagan. The lake is apparently home to some impressive recreation opportunities, but for my money nothing could be as cool as the shot of the lake from space (right). The lake is the remnant of an asteroid strike 220 million years ago, when a three-mile-wide chunk of space rock slammed into the Canadian shield. As you can see it's almost perfectly round with an island in the center. To get a sense of the lake's scale, it's got five times the water of South Dakota's Lake Oahe, which runs 230 miles from Pierre to Bismarck.
In my trip, though, I won't stop for more than a stretch, a few photos and some gasoline at either of these scenic destinations.
Day 7: Labrador City to Happy Valley-Goose Bay (330 miles, 8 hours)
Labrador City is a mining town, home to a massive open-pit iron ore mine. Let's not lose sight of just how remote this town of 7,000 people is: to get here, we drove NINE HOURS up a partially paved highway. This route contained TWO gas stations and no population of significance other than the dam maintenance crew. South Dakota towns like Buffalo, Eagle Butte, Faith and Pine Ridge can seem like they're in the middle of nowhere, but as I said: Québec makes South Dakota look like metropolitan New York City. (And this trip is only going a few hundred miles into Québec. The province goes another 750 miles more, and the population only gets sparser.)
Labrador City is also where we say goodbye to Route 389 and say hello to Route 500: the Trans-Labrador Highway. And if narrow, winding Route 389, with its long stretches of gravel paving, seemed desolate, the Trans-Labrador Highway is a whole other league. In fact, the Labrador government will loan any traveler who asks a free satellite phone programmed to call 911 as they set out on the Trans-Labrador Highway, just in case your car breaks down three hours from anywhere.
This road is gravel all along its 330-mile length, though a government website assures me it's "good gravel" and "Class A Maintenance Grade." Along the way I'll spent some time in Churchill Falls, home of an entirely underground hydroelectric dam that produces 5,000 megawatts. (Oahe Dam puts out 786 MW.) As someone who loves underground construction, I'll definitely try to arrange a tour.
This day terminates in the town of Happy Valley-Goose Bay, an Air Force town of around 7,000 on the shores of Lake Melville, an inlet of the Atlantic Ocean.
At this point I have a choice. The Trans-Labrador Highway continues on, winding across Labrador to the Atlantic coast, an eight-hour drive. Alternately, there is — or was — ferry service up the coast from Happy Valley-Goose Bay to the town of Cartwright.
By the time I get around to taking this hypothetical trip there may not be ferry service any longer. Until 2009, the ferry existed because it was the only way to get around Labrador. The Trans-Labrador Highway didn't run from Cartwright to Happy Valley, so if you wanted to get between the towns you had to hop on a boat. Now there is a highway stretch there, and it's a lot faster and more direct than taking a boat. On the other hand, a 12-hour ferry ride is A) cool and B) means 12 hours of travel where I can just sit and relax and watch the scenery rather than focusing on driving. The current ferry schedule suggests the bulk of that trip would be overnight, but who knows what it will actually be on this hypothetical date. Also: schedules are "pending ice conditions," so that's fun.
Day 8A: Happy Valley-Goose Bay to Mary's Harbour (285 miles, 8 hours)
Day 8B: Happy Valley-Goose Bay ferry to Cartwright (12-15 hours), Cartwright to Mary's Harbour (156 miles, 5 hours)
Mary's Harbour only has around 500 people, but it's as good a stop as any. Even better, it's only four hours to Blanc-Sablon (remember it?) and the ferry to Newfoundland. This will give me plenty of time to relax a little. There's three notable tourist attractions along the Labrador coast: the restored 19th Century fishing town of Battle Harbor, the 500-year-old Basque whaling base Red Bay, and the still-working, 109-foot 1857 Point Amour Lighthouse. If I don't sleep in too much in the morning I can probably see all three, or certainly any two, and still make it to Blanc-Sablon by bedtime.

Battle Harbour, Labrador, Canada. (Image in the public domain, via here)
Day 9: Mary's Harbour to Blanc-Sablon (105 miles, 4 hours)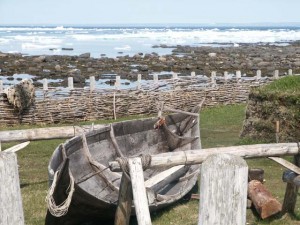 Right: The Norse archaeological site at L'Anse aux Meadows, Newfoundland. (Image in the public domain, via here)
It takes about two hours to cross the Straits of Belle Isle by ferry, and there's usually two departures per day. Let's say I pick up an 8 a.m. ferry, which puts me on Newfoundland around 10 a.m. on Day 10 of my not-gonna-happen trip. There's another two hours up the coast to L'Anse aux Meadows, where the Norse built a settlement in North America 500 years before Columbus. Let's say it takes me three, because this is a scenic stretch of land and I've been in the car for eight days. A few hours there, and then either go back to St. Barbe (where my ferry docked) or stay in the northern tip of Newfoundland for rest.
Day 10: Ferry to Newfoundland, visit L'Anse aux Meadows
Days 11, 12, 13: Explore Newfoundland
It's 13 hours from St. Barbe to St. John's, the capital of Newfoundland. I'd probably take that in two days, seeing sites along the way, then take a day and a night or two to see the capital.
Day 14: Make my way to Channel-Port aux Basques, on the southwestern tip of Newfoundland.
Day 15: Take the ferry from Channel-Port aux Basques to North Sydney, Nova Scotia. The journey is seven hours, and appear to be scheduled in the early morning. After arriving in Nova Scotia, it's about five hours and 250 miles to Halifax, which gives me time to make a leisurely day of it, seeing sights along the day.
Day 16: See sights in and around Nova Scotia and Halifax.
Day 17: Halifax to Portland, Maine (586 miles, 10 hours)
Here I run into a conundrum. I've never visited New England. On the other hand, I've already been gone 17 days and I'm still half a country away from home. So let's assume I keep my sightseeing to a minimum — although given the scale of this trip, if I'm taking it I'm probably well-off enough that another day and another few hundred dollars isn't going to make much of a difference.
Day 18: Portland to Boston (107 miles, 2 hours). See sights, maybe meet friends for a meal. Then drive Boston to New York (about 215 miles and 4 hours). Stay with friends or family.
Day 19: See New York City
Day 20: Home stretch! New York City to Chicago (801 miles, 13 hours).
Day 21: Chicago to Minneapolis (408 miles, 7 hours)
Day 22: Minneapolis to Rapid City (576 miles, 9 hours)
So there you have it. Three weeks, plus more if I take things a little more leisurely. It will have taken me and whoever I'm driving with (because as comfortable as I am being alone I'm not doing this trip without someone to talk to and to switch off driving with) to some of the most isolated places in sub-polar North America, to centuries-old historical sites, to beautiful terrain and massive works of human engineering, to small towns and great cities. I will have driven more than 7,000 miles and spent at least that amount in dollars. (And that's assuming no catastrophic breakdowns, particularly in the middle of northern Québec.) Amazingly, I could actually take this trip now (well, next summer) if I found someone else to split the cost with. It'd mean no new computer and would wipe out my fiscal cushion, though, so don't look for me to hit the road any time soon. As nice as such a road trip would be, I've got far better things to spend my money on. Fortunately, who needs to travel when you've got the Internet?
Please don't answer that.
And please don't ask how long I spent researching and writing this ultimately meaningless post.
Let's just say it wouldn't have gotten me up Route 389. At least, not quite.
Reference: Taking the Road Less Traveled - Trans-Labrador Highway, by Thane Silliker. Thane took basically this same route, but on a motorcycle instead of a car. I do not envy you your road dust, Thane.
My approximate route: